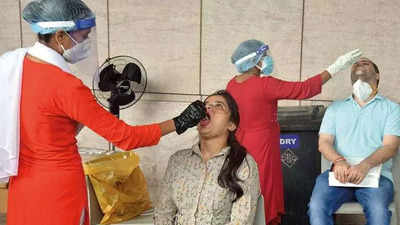 File photo of Covid test in Mumbai
MUMBAI: A day after the state reported record low deaths and cases, Maharashtra reported a rise in Covid cases and deaths as compared to Sunday.
On Monday, the state reported 1,201 cases and 32 deaths, taking the total cases to 66.05 lakh and the deaths stood at 1,40,060. On Sunday, the state had reported under 900 cases and 12 deaths.
Meanwhile, for the second day, Mumbai registered less than 300 cases on Tuesday. Five deaths were registered in Mumbai, compared to seven on Monday.
BMC officials said although fewer than usual tests ( 31,280) were done, the positivity rate in the city has been low. "Even if more than 35,000 tests are conducted, the positive cases are not likely to be much higher," said a doctor working at a civic hospital.
Data shows that even as the number of daily deaths in the state has been low, the daily toll in Mumbai has been growing in proportion. On Monday, Mumbai recorded seven out of the 12 deaths in the state. During the week between October 19 and 25, 212 people have died from coronavirus in the state, including 36 from Mumbai.
Officials said that in the last 24 hours over one lakh tests were done, which was lower than the average of 1.20 lakh tests done through the week, but higher than the over 84,000 tests done over the weekend.
"Although cases will go up slightly if more tests are conducted, the positivity rate remains to be stable," said the official. Active cases continued to drop in the state and the city. At 11,26,871, most recoveries in the state were reported from Pune district.